You only have two days to explore, you may be wondering what can I do in Bangkok in 48 hours. From the Grand Palace of the King of Siam, located in the heart of Bangkok, to the majestic temple of Wat Arun, the bustling night markets and the tranquil beauty of the Chao Phraya River, there is plenty to entertain yourself during a short layover in the area. . . The city of Bangkok is historic and traditional while retaining its modernity and its rightful place as Thailand's largest and most cosmopolitan city. Here are some ideas for places to visit and things to see when you're in Thailand's bustling and dynamic capital.
Must visit attractions in Bangkok
The Grand Palace was the home of the royal Siamese government from 1700 to 1925. Today, the historic building is used for official events. Every year, thousands of visitors flock to the elegant building and its perfectly manicured gardens. Equally famous among tourists and locals, Wat Arun is a famous Buddhist temple in the Yai district. Named after the Hindu god Aruna, it is one of the most ornate structures in Thailand. Try to get there at sunrise, when the light reflects off the surface of the temple, for great photo opportunities. The golden Buddha at Wat Traimit was covered in stucco and a layer of colored glass for 200 years, but in 1955, when the statue was relocated, its true golden nature was revealed.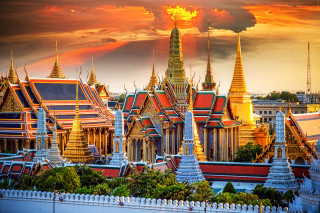 Picture perfect
The Lebua State Tower Dome is one of the most popular places in the city for photography. Tourists flock to this novelty landmark to take selfies both day and night. Inside the Dome you will find the Sky Bar, live music and restaurants, as well as the highest rooftop bar in the world. An ideal place for a spectacular selfie! The Golden Buddha at Wat Traimit is another great place to take a memorable photo. Not enough Buddha photos? Wat Phra temple and its reclining Buddha is another great spot for the budding photographer in you. Any of the parks in the area make a great photo spot, with vast expanses of green and unusually shaped trees and plants acting as spectacular backdrops.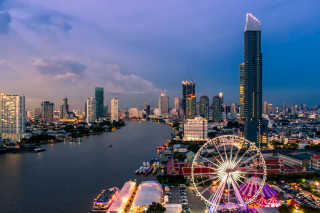 Things to see in Bangkok
There are several floating markets in the region that are well worth a visit. Damnoen Saduak is the most popular market among visitors and locals and here you will find a good selection of food, fruits and vegetables and handicrafts made by local people. Another unusual market is the Bangkok Railway Market, where stalls line both sides of a fully functioning railway. The train passes once or twice a day, and when it does, the vendors at the stalls put their offering aside, rather quickly. It is worth visiting at such times to witness the spectacle! The Asiatique Riverfront is an open-air mall that overlooks the Chao Phraya River. It offers restaurants and bars, the Sirimahannop tall ship, a museum and great views of the river.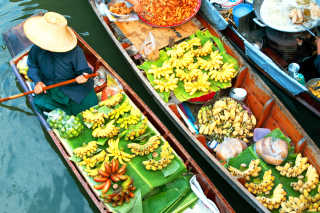 Local delicacies in Bangkok
Pad Thai is probably the best known and most loved dish in all of Thailand. While recipes vary, the staple dish usually consists of stir-fried meat or seafood, rice noodles, bean sprouts, scrambled eggs, and peanuts mixed with a sweet and salty sauce. Other traditional dishes include the delicious green papaya salad, a delicious fruit dish mixed with garlic, sugar, lime and tamarind sauce, noodle soups of various varieties, spicy massaman curry and slow-cooked tender pork.** Thai sweet crepes, mango or banana and sticky rice, coconut rice dumplings and coconut ice cream** top the list of famous Bangkok desserts. Wash it all down with creamy Bangkok coffee, made with sweetened condensed milk!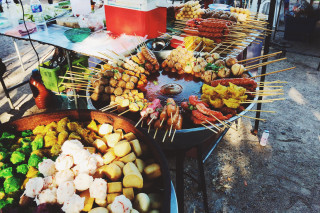 Things to buy in Bangkok
There are so many exotic shopping options in Bangkok that it's hard to decide what to buy! Choose from Thai silk, various aromatic spa products, fruit soaps, woven bags, oil paper umbrellas, and fabrics at the Chatuchak Weekend Market. You can also stock up on coconut oil, Thai spices, silver jewelry, trinkets, and snacks from the numerous day and night markets that line the city's streets. Wood carvings, charms, and triangular pillows are other take-home retail therapy options. To compare flight prices to Bangkok and other Asian destinations visit BudgetAir!