All packed up and almost ready to fly? You may be wondering what can I do in Abu Dhabi in 48 hours. As the capital city of the United Arab Emirates, Abu Dhabi is the best-known city on the stunning Arabian Gulf. It is a dynamic city that attracts many visitors from all over the world! Tourists enjoy the blend of modern and traditional culture and the city has a rich archaeological history, beautiful wildlife, including several rare species of animals and plants, and interesting and evocative landmarks, making it an exciting holiday destination. . Let's take a closer look at the ways you can fill your time with a short layover in Abu Dhabi.
Stunning spots to snap a selfie
Why not take an envy-worthy selfie at Ferrari World? This huge indoor amusement park is located on the island of Yas and is the first park built by Ferrari. It is the largest space structure in the world and the fastest roller coaster in the world: the Formula Rossa. Take a photo in front of it or one of the vintage cars on display and become famous! Ferrari World was named "Top Tourist Attraction in the Middle East" in 2015/16. Abu Dhabi's bustling souks make a colorful backdrop for selfies, as do the city's sandy beaches. Abu Dhabi is also home to the Rub' al Khali, the Empty Quarter Desert, the largest desert in the world. Take a tour of the Ubar ruins and Fasad sand dunes and take a selfie to remember the special moment.
The best Abu Dhabi attractions
Most visitors head to the Sheikh Zayed Grand Mosque, one of Abu Dhabi's most famous landmarks. The mosque is still used for Friday prayers and teachings. Up to 40,000 people visit the mosque during Ramadan and Eid celebrations and it is also home to the world's largest carpet. Corniche Road is a beautiful long waterfront street where you can see pretty fountains, stroll winding lanes, and enjoy many lush parks. It is in the heart of the city and it is here that you will find the best cafes, restaurants, playgrounds, cycling and walking paths and the sandy beach of the Corniche. The Emirates Palace was once the residence of the royal family, but today is a palatial hotel with its own private marina, so if you want five-star luxury, this is the place to stay when you visit. Abu Dhabi.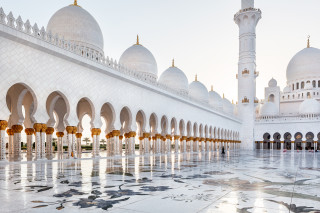 Sights and sounds!
Mangrove National Park can be found just outside the city center and is a protected area full of beautiful birds and wildlife. Its biodiversity is incredible and the park contains the majority of mangrove forests in the United Arab Emirates, along with mudflats, kelp fields and mudflats. This pristine environment is also home to flamingos, crabs, foxes, fish, dolphins, dugongs, and herons. The Louvre Abu Dhabi mammoth is the largest in the Arabian peninsula and is located on Saadiyat Island. The museum displays art and artifacts from artists from around the world. There are more than 8,000 square meters of galleries to enjoy in the museum! For an adventurous day trip, consider taking one of the many wildlife safaris to see Arabian oryx, sand cats, and red foxes in the deserts surrounding the city, or on one of the offshore islands. . Ideal activities for nature lovers.
Tasty local dishes and desserts
Abu Dhabi food is warm and welcoming and most dishes are spicy and tasty. Khuzi is the national food of the Emirates and is usually served on special occasions. It can be found in most restaurants in the city and consists of roast lamb or lamb served on a bed of spiced rice. Harees is a traditional creamed meat and wheat dish made with chicken pieces, coriander and spices. It can be sweet or salty, depending on what spices and aromas are used. Another favorite, Machboos, is a meat and rice dish made with chicken, lamb, mutton, or beef and basmati rice, flavored with limes, tomatoes, paprika, and other spices. Walnuts and raisins are often added last. Salona can be found at street vendors and restaurants and is a curried meat and potato dish with added vegetables and spices served with rice and bread. Kid, calf and camel are also part of the city's menu. The small, crunchy dumplings in date syrup called Luqaimat are the most popular dessert in the city.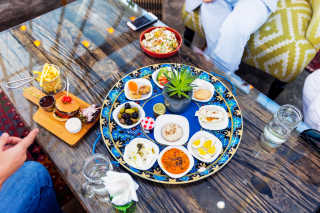 Gifts to take back home
The city is known for its traditional rugs, quality dates, Arabic coffee pots, and its sougha art, weaving palm fronds, animal skins, and cloth to create artistic products. Buying gold is more affordable in Abu Dhabi than in any other country in the world, making it the ideal place to stock up on precious metals. Retail therapy is everywhere, but the best shopping can be found in Abu Dhabi, Yas, and Al Wahda Mall, among others. Shopping is also plentiful in the markets and there are numerous arts, crafts, food, sweets and bags or furniture and precious metals to buy. Try the Gold Souk, Al Zafarana Souk, Al Ain Souk and Carpet Souk or Abu Dhabi Farmers' Market. In the city you can buy many duty-free items, such as alcohol, cigarettes, watches and perfumes.