What to see in Cappadocia?
Known for its peculiar distinctive rock formation, historical heritage, horse rides, and hot air balloon trips, Cappadocia is one of the top destinations on many photographers and influencers' bucket list. Located in east-central Anatolia, Turkey, this region attracts crowds of tourists who are all eager to explore historical discoveries. Here is a list of 10 unmissable attractions for you to see and do while in Cappadocia.
1. Hot air balloon over Cappadocia
To start with the most obvious: the hot air balloon flight in Cappadocia! Once in a lifetime thrill. This is what Cappadocia is famous for. But even if you are not a fan of heights, you can observe them from the roofs of the hotels. In recent years, the region has become quite famous for its stunning rooftop photos with hot air balloons rising in the background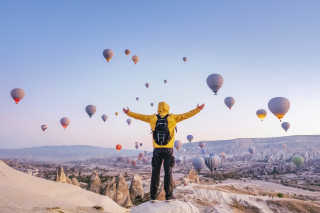 To take stunning photos, photographers from all over the world head to this destination. However, there is a catch: if you want to witness the beautiful views, you need to be at the take-off site before morning sunlight. But it's all worth it once you're surrounded by hundreds of other airborne hot air balloons, all different colors, and bright yellow sunlight illuminates the tops of the fairy chimneys in the valleys.
2. Goreme National Park
Cappadocia is home to the UNESCO World Heritage-listed Goreme National Park, where visitors have the chance to discover epic rock formations that are also known as fairy chimneys. The strange-looking hills are made mostly of basalt, which formed from volcanic ash from volcanoes.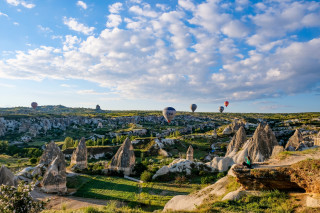 The center of the national park is based on the intersection of subterranean communities built into the rocky environment eroded by water and wind. Where erosion has left behind fairy chimneys, rock pillars and towers. Now it is a place where anyone can wander freely and discover the bumpy lands of Cappadocia.
3. Fascinating valleys
In Cappadocia you can find a total of 16 valleys: Love Valley, Rose Valley, Red Valley, Zelve Valley, Gorkundere Valley, Sword Valley, Ihlara Valley, Pasabag Valley, Soganli Valley, Goreme Valley, Zemi Valley, Pigeon Valley, Monastery Valley, White Valley, Meskendir Valley and Devrent Imagination Valley.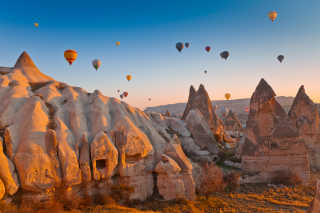 Each of them is worth visiting due to their unique difference in landscapes and peculiar shapes of the fairy chimneys. Most of the valleys can be seen from above if you decide to take a hot air balloon ride. But if it is not the case, then there are other (cheaper) ways to witness these strange forms of rock formations. It is possible to explore the valleys by hiking, finding horseback riding tours or renting ATVs. Take your time while in the valleys, these fairy chimneys will definitely make you imagine what these rocks remind you of. Good to know: sunrises and sunsets are the most beautiful times of the day to explore the valleys.
4. Underground cities
If you are not claustrophobic, you may enjoy visiting Kaymakli Underground City and Derinkuyu Underground City. The first is the largest maze of rooms connected by tunnels that spans eight levels. While the Derinkuyu Underground City is the deepest underground shelter in Cappadocia.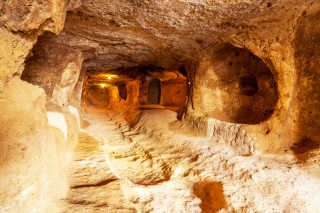 As they go deeper and deeper into the ground, the tunnels get narrower and narrower. In the Derinkuyu underground labyrinth, there is a massive church, as well as other residential and storage spaces to explore. You can also see the ingenious system of ventilation ducts used by the residents of Derinkuyu.
5. Stay in the caves
Staying in Cappadocia itself is another attraction, where guests are provided with cave hotel rooms. The soft sandstone made it easy for the locals to carve out their houses in the interior. Various sizes, shapes and designs. Don't worry, everything you need will be provided, but instead of four walls, you will be surrounded by the Rock of Cappadocia. This experience you will never forget!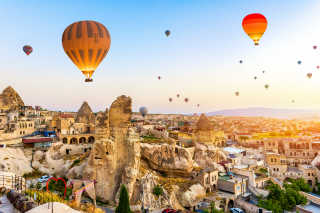 In a nutshell, there are three main areas that are known for their best location while staying in Cappadocia:
6. Romantic horseback riding through the valleys
For horse lovers, good news, you will see them a lot in Cappadocia! In addition to the various tours on these beautiful animals, there is even the possibility of grooming them before and after the rides. Horseback riding is one of the most popular ways to discover the valleys.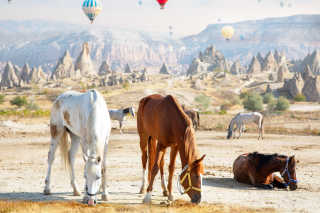 The horses are well trained, so even if there is minimal or no riding experience, this should not be the reason not to try. Let yourself enjoy the views while the horses will accompany you and take you to hard-to-reach places of Cappadocia.
7. Visit the Güray Museum
Another attraction worth visiting is Güray Müze, which is the world's first underground ceramics and pottery museum in a cave. Displayed in chronological order, here you can find a collection of approximately 500 ceramic pieces from the Late Chalcolithic, Bronze Age, Roman, Byzantine, Seljuk, and Ottoman periods.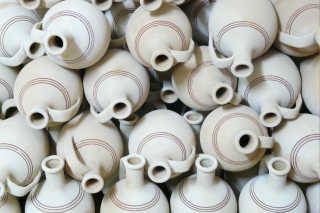 If after this experience you are inspired to create something yourself and you are not afraid to get your hands dirty, then it is possible to find pottery workshops in the same museum. The professionals will show you how to create a traditional Cappadocian ceramic design.
8. National cuisine
Try the local food. Turkish food is a combination of Central Asian, Middle Eastern and Mediterranean cuisine traditions. The must-try is the famous Ceramic Kebab, which you can find almost everywhere in Turkey, but the best is made in Cappadocia. Vegetarian, pescatarian or vegan? Don't worry, due to the mix of cuisines, you will still be able to find delicious dishes for yourself. Turkey is known for its welcoming spirit and when it comes to food, the goal of every restaurant is to satisfy the needs of every customer and leave only good impressions.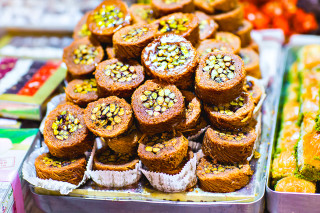 The local Cappadocia wine might impress you. It was first made in the Black Sea and brought to Cappadocia by the ancestors of the Hittites. Thus, the volcanic terroir of Cappadocia enhances the flavor of the grapes, and the cave cellars are ideal for maturing the wine made in this region. If you have a sweet tooth, Turkey will surprise you with some traditional sweet honey baklava. But if you're in the mood for something refreshing, then dondurma, which is a traditional Turkish mastic ice cream, shouldn't be overlooked. But we wish him good luck because it will be some time before the ice cream maker finally delivers his cone to him as making fun of the customers is his favorite part of the job.
9. Whirling Dervishes
Not many people know but in Cappadocia you can witness 'The Whirling Dervishes'. This revolving meditation ceremony dates back to the 13th century in Konya. It is a traditional Turkish dance performed by men with their eyes closed. The dervishes' arms are outstretched as they turn, with the right hand pointing skyward, indicating their readiness to receive God's blessing.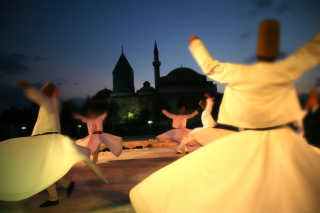 In Cappadocia you will find special evenings dedicated to the Whirling Dervishes, where you can enjoy the performance while drinking some wine and enjoying a traditional Turkish dinner.
10. Turkish Handmade Rugs
Türkiye is famous for its production of high-quality carpets and rugs. If you are looking for something special that will always remind you of a wonderful trip to Cappadocia, a rug could be a great idea. Carpet fabrics are definitely worth a visit, where the professionals will not only show you how they create the rugs themselves, but also show you the materials and some very exclusive offers.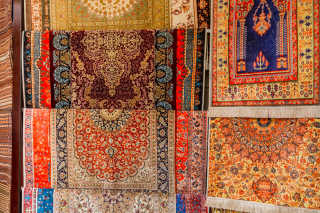 Depending on the choice of material, the time that each master spends on a handmade rug, the design and the complexity of the patterns, the prices for these pieces of decoration can vary from hundreds to thousands of euros.
Practical information of Cappadocia
How do I get to Cappadocia?
Flying direct to Cappadocia from Istanbul is a popular alternative for short-haul tourists. The flight takes 80 minutes from Istanbul. There are two large airports nearby: Kayseri Erkilet Airport (ASR) in Kayseri (approximately an hour's drive from central Cappadocia) and Nevşehir Kapadokya Airport (NAV) in Gülşehir (a 40-minute drive from Cappadocia).
How long should I stay in Cappadocia?
To fully enjoy Cappadocia and all the attractions it has to offer, we recommend that you stay there for no less than 3 days. Cappadocia is a great destination for a short trip that would not last more than a couple of days. However, it can be combined with other cities in Turkey to visit, for example, Antalya and/or Istanbul. If there is a desire to fully immerse yourself in Turkish culture, then such a trip would be ideal. The perfect balance between busy cities and authentic places, the combination of which would show the country in all its diversity.
What is the best time to visit Cappadocia?
Cappadocia is beautiful despite the time of year, however the temperature in a country as hot as Turkey can make all the difference. That is why we recommend spring as the ideal time to visit Cappadocia. Anytime between the beginning of April and the end of June, Cappadocia will surprise you with flowers, warm days and cold nights that will allow you to refresh yourself after a day full of activities.