The Best Free Things to do in New York
You arrived in New York, one of the coolest cities in the world. Sleeping is not an option because you want to discover everything the city has to offer. Unfortunately, your bank balance doesn't always cooperate. Do not panic! We've put together a list of the top 5 free things to do in New York.
#1 Free Champagne – Tiffany & Co.
Do you like to drink champagne? Then make your way to Tiffany & Co., where you'll be offered a free glass of champagne as you cruise. While enjoying the bubbles, enjoy the beauty of the exquisite jewelry for sale in the luxury store. Beware! You tend to spend more when you shop while enjoying a drink. Where: 727 Fifth Avenue.
#2 Free visit – Guggenheim Museum
If you like to visit museums and you love impressionist and contemporary art, the Guggenheim museum is the right place for you. On Saturdays the museum has extended hours and from 5:45 p.m. m. to 7:45 p.m. m. Tickets are sold on a "pay what you want" basis. Remember to get there early because Saturdays are always busy and you can stand in line for a long time. Where: 1071 Fifth Avenue at 89th Street.
#3 Free Comedy – The Knitting Factory
Is your travel companion not as fun as you expected? Lucky for you, there are still plenty of comedy shows in New York. Every Friday, the Knitting Factory in Brooklyn hosts a free comedy night starting at 11 p.m. m. Where: 361 Metropolitan Avenue, Brooklyn.
#4 Free Brewery Tour – Brooklyn Brewery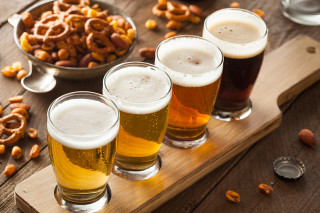 Fancy a free brewery tour? Then head to Williamsburg's Brooklyn Brewery on Saturdays. The tours take place at 1:00 p.m., 2:00 p.m., 3:00 p.m., 4:00 p.m. and 5:00 p.m. No reservation is necessary and admission is free. Where: 79 N 11th St Williamsburg.
#5 Free bed… or sofa – Couchsurfing
And last but not least. Are you a true socializer and want to explore the Big Apple with a local? Why don't you try CouchSurfing? Real New Yorkers offer up their guest bed (or couch…hence the name couchsurfing) for free and nothing in return! Expect lots of fun, seeing New York in a different light and exploring and making new friends. Important to know: Although it is not necessary, it is Couch Surfer etiquette to bring something nice to your host. Happy surfing! Where: Anywhere you fancy in New York.