5 Travel Treasures to Visit in Stunning Italy
What is the first country that comes to mind when you think of culture and culinary delights? For me, the answer is always Italy. Italy is a country with a history that goes back thousands of years, with historical sites all over the country. The country is well known for its cuisine. Eat your way across the country and experience the irresistible nature of Italy through these travel treasure places in stunning Italy.
1. Ponte Vecchio, Florence
Florence is my favorite city in Italy, a well known and busy bridge. The Ponte Vecchio is an important historical bridge that dates back hundreds of years. The bridge has shops on both sides with a decree dating back to 1593 stating that goldsmiths and jewelers are the only types of shops allowed to sell on the Ponte Vecchio.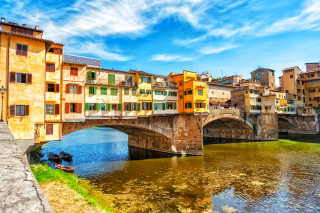 The bridge is the centerpiece of the city. Ponte Vecchio has remarkable staying power as the bridge has been subject to much flooding over the years. A true Florence landmark.
✈️ Closest airport to Ponte Vecchio: Florence Airport (FLR)
🎨 Places to visit around Ponte Vecchio: Uffizi Gallery, Palazzo Vecchio, Piazza della Signoria…
2. Cefalu, Sicily
Situated at the tip of Italy's big boot, Cefalu is a seaside town on the island of Sicily. This sleepy beach town is off the beaten track and has a more relaxed feel than the hustle and bustle of the larger neighboring city, Palermo.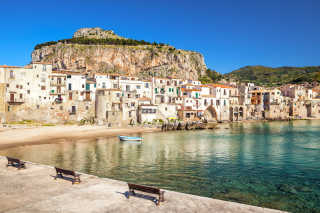 Cefalu has an old medieval feel and is full of traditional Italian houses and shops. Cefalu Cathedral looms over a city and is a UNESCO World Heritage Site. Enjoy a walk through the old town and spend the day relaxing on the beach, where you can take a refreshing dip in the ocean to recharge your travel battery.
✈️ Closest airport to Cefalù: Palermo Airport (PMO)
⛪ Places to visit around Cefalu: Cefalu Cathedral, La Rocca di Cefalù, Cefalu Beach…
3. Monteriggioni, Siena
Monteriggioni is a walled city in the center of the Tuscany region. This region is well known in film and media for its beauty and its authentic Italian feeling and outlook on life. A romantic trip to Tuscany is a must for all lovers, as the region exudes love and romance.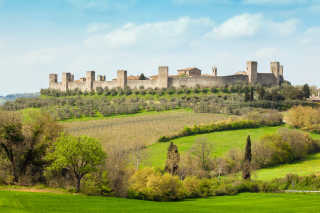 The walled city is a sight to behold and a unique experience, the city is still home to many structures built 700 years ago and was initially used as a defensive post for the region but later established as a tourist attraction for young and old. The walled city has 14 watchtowers along the walls to fend off any intruders. Monteriggioni is highly recommended.
✈️ Closest airport to Monteriggioni: Florence Airport (FLR)
🍷 What to do in Monteriggioni: Museo Delle Armature, Church of Santa Maria, wine tasting (don't miss the opportunity to taste the delicious local wines)…
4. Castel del Monte, Apulia
You may have traveled to Italy before or heard about how Europe is all about history and the past, old buildings that never change. All the buildings look alike. Fear not, the Castel del Monte is nearby.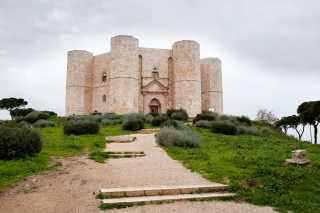 This unique structure is located in the Apulia region of southeastern Italy. The castle was completed in 1240, almost 800 years ago and it is a structure that is very different from the usual castle you have seen and heard of in Italy. Its perfect octagonal shape makes it a unique site not only in Italy, but also in the world. It is also a UNESCO World Heritage Site since 1996.
✈️ Closest airport to Castel del Monte: Pescara Airport (PSR)
🏰 Places to visit around Castel del Monte: Rocca Calascio Castle, Santo Stefano di Sessanio…
5. Trevi Fountain, Rome
Let's end this list of travel secrets with a well-known tourist attraction in the capital of Italy, the Trevi Fountain in Rome. Rome is one of the most visited cities in the world with a wide variety of unique historical attractions around the world. A traditional tourist area, but worth visiting even for the most cynical.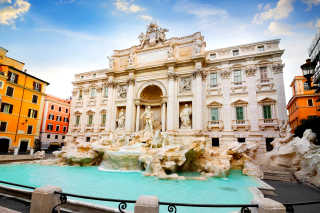 The legend of the Trevi Fountain and its myth of wishes that come true only begins when the visitor throws a coin with their right hand over their left shoulder, but facing away from the iconic fountain. One coin means you will return to Rome, two coins will mean you will meet someone and fall in love, and three coins will mean marriage.
✈️ Closest international airport to the Trevi Fountain: Rome-Fiumicino International Airport (FCO))
⛲ Places to visit around the Trevi Fountain: Via Del Corso, Spanish Steps, the Pantheon…