The color green, a four-leaf clover, St. Patrick's Day, old castles and wild nature. What do you think of when you think of Ireland? Discover the best road trip routes this country has to offer. Start in Dublin, Belfast or Cork and enjoy all the wonderful things to see in this beautiful country. What are you waiting for? Hit the road!
Dublin
Visiting the capital Dublin should definitely be on your bucket list, but did you know that there is plenty to do in the city? Take your car and go! Head south and you'll find some beautiful nature in the Wicklow Mountains National Park, including impressive waterfalls, large lakes and dense forests. Perfect for a day of adventures – go hiking or mountain biking!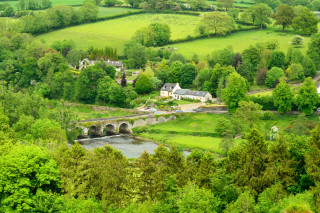 There is also a good dose of culture in Ireland. Further south is the city of Kilkenny, with a beautiful medieval castle. And Dublin is also a great destination for a more cultural adventure with the former prison, Kilmainham Gaol.
Belfast
Belfast, the largest city in Northern Ireland, is steeped in history. The Troubles took place only 20 years ago and you can still see a lot of it, but don't stay in town for long because the Causeway Coastal Route is waiting for you.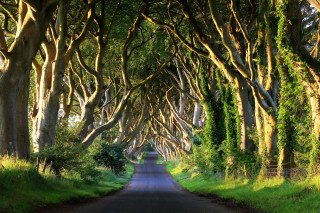 Follow the coast to beautiful places where you can also walk. For fantastic views of Northern Ireland, head to Torr Head or the Giant's Causeway. Don't miss the Carrick-a-rede rope bridge, especially if you're not afraid of heights. Or visit the Dark Hedges (see photo) which you may recognize from the hit series Game of Thrones as King's Road. End in Derry ~ Londonderry, a great historical city.
Cork
Cozy Cork is a good starting point for a road trip through the rugged south of Ireland. The peninsulas consist of fantastic nature: cliffs, rocks and a wild sea that you see everywhere.
There are also beautiful islands off the coast, like Skellig Michael, which you may have seen in Star Wars: The Force Awakens. Or the Blasket Islands, off the coast of the Dingle Peninsula, full of large rocks and a special history.