Experience Dubai on a budget
Dubai can be quite expensive, but don't let that put you off, Dubai has plenty of things you can do on a budget. So you can get the full Dubai experience on a guilt-free budget. Read on for the best affordable things to do in Dubai!
Important rules to know about Dubai
theme details
Alcohol 🥂 It is forbidden to drink alcohol in public places. Therefore, you cannot buy alcohol in supermarkets, gas stations or kiosks. The only stores where you can buy alcohol are African + Eastern and MMI.
Love ❤️ When traveling with your partner to Dubai, for married couples, it is tolerated to show your love through affection, such as holding hands in public. To respect their culture, it is recommended that you do not do more than that, so do not kiss or hug in public places.
Food 🍴 As Islam is the main religion of the country, not all supermarkets sell pork. You can find it in a special section of some supermarkets in Dubai (Al Maya Supermarket, Choithrams, etc), and the only pork you can find will be frozen.
Photography 📷 When traveling to Dubai with a camera, be careful what you are pointing your lens at. Certain government buildings and military installations may not be photographed. As well as people in public places.
Dress code 👚 In the United Arab Emirates it is still respectful to cover your shoulders and knees, however, the city of Dubai is quite open. Travelers should dress modestly and other cities may have a stricter dress code policy, which can result in a person being fined if certain dress code rules are violated.
Things to do in Dubai
1. Let's freshen up
As you may well know, Dubai is known for its hot climate, with temperatures as high as 104°F/40°C. That is why it is necessary to cool down. Going to the beach, you may feel more like you're in a soaking tub, rather than refreshing water. Also for hotel pools, if you are not a guest of that facility, you have to pay a high fee to enter. That's why you should visit the Barasti Beach Pool at Le Méridien Mina Seyahi Beach Resort & Marina, where you can enjoy a relaxing day in the pool for free.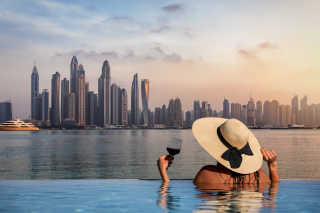 2. Must visit museums
One might think that Dubai only consists of swimming pools, parties and shopping, but there are many museums available with free admission. Here are the top 5 museums you must visit during your next trip to Dubai!
Free entry museums in Dubai
Coffee Museum In the Coffee Museum you can enjoy a relaxing atmosphere with traditional and oriental architecture. The museum displays a wide selection of vintage items illustrating the history and culture of regional and international coffee.
Museo de la Moneda In the Museo de la Moneda you can find a large collection of coins from the ancient Arab period, as well as more than 470 different coins.
Saruq Al Hadid Archaeological Museum Translating to The Iron Way, the Saruq Al Hadid Archaeological Museum shows the era of metallurgy.
The Pearl Museum The Pearl Museum represents old Dubai, before the tall buildings were built, as it shows what it was like when the city was still a small town of industrious pearl divers, dhow builders and traders.
Naif Museum The Naif Museum, was a former port that served as police headquarters and prison dating back to 1939. You can see how police uniforms have evolved over time from traditional to modern dress, and how weapons and equipment have changed from the Dubai Police. Force was formed in 1956.
3. Travel in history
If you want to discover more about Dubai's history, creation and wealth, you should visit the Al Shindagha Museum, located along the Dubai Creek. Let history guide you and experience how Dubai has evolved over time. Adult tickets cost AED 15, which is about £3.13.
4. Take a trip to the wild
The Ras Khor Wildlife Sanctuary is home to 450 species of animals and 47 species of plants. This sanctuary is known for its migratory birds and its main attraction is the flamingos! Here you can take a look at all the species that inhabit Dubai. And no, this is not a zoo. The RAKWS is an urban protected area found in the arid zone, and is also a globally recognized wetland of international importance. I would say it is a must visit in Dubai!
5. Boat trip on Dubai Creek
Another affordable activity you can do in Dubai is to hop on one of the traditional ferries, known as abras (which means 'cross' in Arabic), and see the beautiful city from a different perspective. Each abra ride costs just 1 AED (£0.21)! You can buy a one-way ticket, which takes about 5 minutes, or you can rent your own abra and enjoy the ride for a whole hour.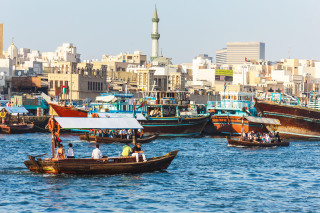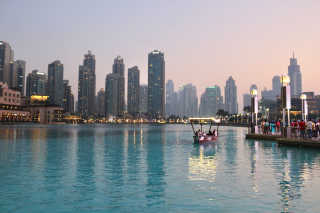 6. Fountains: Dubai's iconic landmarks
One of the things Dubai is known for is its fountains, more so the Dubai Fountain on Sheikh Mohammed bin Rashid Blvd, right next to the Burj Khalifa. This fountain is known for having the largest fountain system ever built, as the Dubai Fountain's water features are taller than the famous Las Vegas fountains. The water features and accompanying music change every 30 minutes, making them always worth seeing!
7. Art all you can see
For art lovers, you must go to the Alserkal Avenue Galleries, where in the 500,000 square foot area you can find art in the form of paintings, but also in the form of fashion and design, of gastronomy and even in the form of music. Let's just say you can see a bit of all kinds of art at the Alserkal Avenue Galleries.
8. Shop like a local
From art to fashion, jewelry and spices. Dubai markets have everything you need. Here are the top 5 markets you must visit when traveling to Dubai:
Ripe Market: The Ripe Market is located inside the Dubai Police Academy on Umm Sequim Road. Here you can find a little bit of everything, from stalls offering organic fruits and vegetables and freshly baked breads, to stalls with colorful clothing, cute beach covers, handmade jewelry, hand-painted artwork, and crafts.
Dubai Flea Market: Dubai Flea Market is the biggest and best second hand market, giving you the opportunity to buy and sell. The market is held several times a month at various locations including Al Barsha Pond Park, Al Nahda Pond Park, Zabeel Park, and Ibn Battuta Mall.
Dubai Gold Souk – This market is known for its amount of gold jewelry, everywhere you look there is gold. This is where you can find precious stones, intricate jewelry designs, and some fantastic souvenirs. The Gold Souk is not only for those who buy jewelry, but also for those who like to experience what it feels like to walk on the shimmering reflections of gold.
Entrance to the Dubai Spice Souk: A few centuries ago in Asia, spices were the way of trade, as the influence they have on food culture is unimaginable. Today, Dubai has chosen to treasure this cultural significance with the Spice Souq, where you can explore some of the rarest and most exquisite spices that have ever existed.
ARTE, the Maker's Market: ARTE, which stands for 'Artisans of the Emirate', also known as the Maker's Market, is where painters, artists, artisans and bakers display their handmade pieces. You can visit this market every Friday on Al Marabea Road.