The 8 most unusual hotels in the world
From staying underwater to living with giraffes, these are just a few of the hotels you can stay at for an unforgettable experience! Here is a list of some of the most unique and unusual hotels in all regions of the world:
#1 Kenya – Giraffe Mansion
Located in Nairobi, Kenya (the heart of the Safari), Giraffe Manor is unlike any experience you've had before. At this all-inclusive hotel, you can experience the luxuries of a world-class hotel combined with the wildlife of a safari. In her dining room, you'll find yourself waking up to giraffes sticking their long necks through your window! It is a stay you will never forget.
#2 Maldives – Maldives Underwater Hotel
Always wanted to swim with the fish? Now you can see what it is like to live with them! This underwater hotel is located on the island of Maldives where you can immerse yourself in the sea. It is a luxurious two-level room that is submerged more than 16 feet from the ocean. That's not even the coolest part! When you stay at this underwater hotel, you'll even get a personalized arrival with your choice of a private boat or seaplane to your room!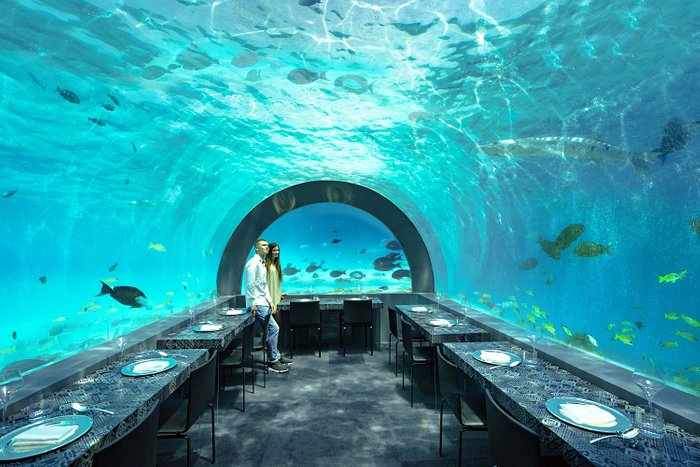 #3 Jamaica – The Caves Hotel
Combining the natural beauty of Negril, Jamaica with a modern and contemporary twist, The Caves Hotel is the perfect stay for the ultimate cave island getaway. It's packed with hotel favorites like a Jacuzzi and spa, but unlike other hotels, you can also have access to private caves and grand-dining gazebos that you won't be able to experience anywhere else.
#4 Costa Rica – Hotel Costa Verde (The 727)
Pilot your own flight by staying in a vintage 1965 Boeing 727 plane at the Hotel Costa Verde in Costa Rica! The plane once carried global travelers from Central America and was later remodeled to stand on a 50-foot pedestal. It has views of the sky as if you were flying. Inside, you'll find yourself living in the comforting design of a home filled with hand-carved furniture and sitting areas.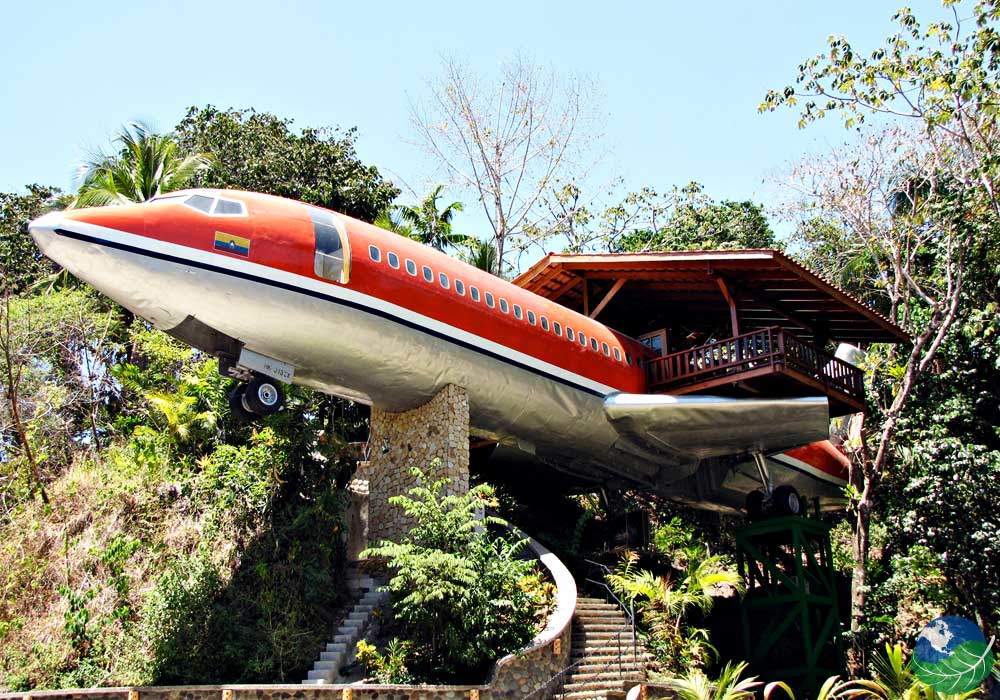 #5 Germany – Hotel V8
This vintage-inspired hotel in Germany is the perfect stay for any car enthusiast. At Hotel V8 they have beds and rooms inspired by classic cars and no two rooms are the same. As soon as you enter the V8 Hotel, you are immediately greeted with amazing classics and some of the top-tier luxury cars. So come here if you want to live out your car fantasies!
#6 United States – Dog Park
Do you love dogs? Dog Bark Park Inn is owned by local residents located in Cottonwood, Idaho and has become one of the most popular landmarks in the state. The hotel is shaped like a beagle and consists of a bed & breakfast and gift shops. Inside the hotel, don't be surprised to find plenty of dog photos and dog-related trinkets. Outside you can find plenty of space to walk around and explore what Idaho has to offer.

#7 Chile – Hotel Elqui Domos
Sleep under the stars in the domes of Chile! The Hotel Elqui Domos is surrounded by the Andes Mountains and is the perfect place to fall asleep while looking at the stars. Each dome has a raised bed and a comfortable living room with a terrace where you can be outside if you want to see the stars. Get your own private dome that has a zippered roof for when you want more privacy or leave it open when you want a 360 degree view of your surroundings. Think of this like glamping: a glamorous camp.
#8 Sweden – The Ice Hotel
Have you ever wondered what it's like to be in an igloo? The Ice Hotel in Sweden has you covered! This hotel is full of beautiful ice sculptures and art. The entire interior of the hotel is also completely made of ice, including the bed frame! The Ice Hotel is an opportunity to experience ice and snow throughout the day.