The best things to do in Prague
Prague, one of the great romantic wonders of the world; with many tall towers, pedestrian streets and a historic center that is included in the list of UNESCO World Heritage Sites. This Zlatá Praha (Golden City) is on the rise! And with good reason. It is the ideal place for a city break.
Sounds good right? Do you want to know what to do in Prague? Here are five places to visit!
#1 Old Town of Prague
The historical center of Prague, as mentioned above, is on the UNESCO World Heritage list. The core of the historic center is the Old Town Square with many medieval houses, baroque palaces and churches, which escaped major damage during World War II. The sight of orange roofs and yellow buildings give you a warm welcome to the city.
#2 The Dancing House
The Dancing House is one of the most interesting houses in Prague. Its design is unique, like a modern building surrounded by historical architecture. It depicts a man and a woman dancing together. The Dancing House is also known as The Nationale Nederlanden building, as the Dutch company Nationale Nederlanden (now ING) bought the place in 1992. It's worth a visit! From here you can enjoy a breathtaking view over the Vltava river.
#3 The Lobkowicz Palace
The Lobkowicz Palace is located to the left of the historic center on the other side of the river. This impressive palace comes with a rich history. With a wonderful audio guide, Prince William Lobkowicz, occasionally accompanied by other family members, takes visitors on a personal tour of the palace and family history. You could spend a whole afternoon walking around!
#4 Prague Castle
Prague Castle is the largest castle in the world. There are several squares, churches and palaces within the beautiful castle. And they are really worth visiting! The most famous street in Prague, Zlatá ulička (Golden Lane) is also located here. The name refers to its first inhabitants, the goldsmiths, who settled in the houses in the 17th century.
Tip: Visit Golden Lane at night. It is very attractive with beautiful lighting.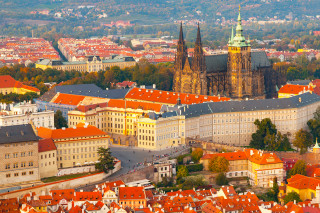 #5 Museum of Communism
The Czechs themselves avoid the Museum of Communism. However, this museum is a great attraction for tourists. Here you will find everything about the communist period of Czecho-Slovakia (from 1948 to 1989). It is very impressive and definitely worth a visit! There are many original objects and it shows how the city looked like during the communism period.