Billy Porter isn't just a talented actor: he's a genderfluid fashion pioneer and icon. Porter's brand of androgyny is not toned down: he is luxurious, loud and proud. Whether it's a debutante-style ball gown or a completely new spin on a suit, he continues to advance fashion and his consistency impresses us. Here are our favorite looks.
1. Oscar Awards 2019
This truly creative fashion moment was called a work of "political art" by Porter himself, and we can see why. Styled by Christian Siriano, this look was half dramatic ball gown and half regal tuxedo. In a magnificent combination of masculinity and femininity, Porter is one of the only human beings on earth who can pull off a velvet masterpiece like this. As with every Syriano red carpet look, the look was sublime.

2. Golden Globes 2019
Here, an embroidered suit with floral details is covered with a floor-length silk cape in taupe and rose gold. This ensemble made Porter's natural glow shine even brighter, and naturally, it wouldn't have been complete without a meticulously dazzling top on the cape. In a classic move of Billy's innovation, the lining of the cape was hot pink. Both the custom suit and cape took six months to prepare and were hand-embroidered.

3. Golden Globes 2020
There's something about Billy that makes designers want to create custom pieces for him 24/7. Maybe there simply isn't any pre-existing design that's fabulous enough for him. This time at the Golden Globes, she transformed into a real-life angel in this Alex Vinash dress. As always, the stylish actor swung a massive train with ease and captioned it, "The category is: Blaque Swan" on Instagram.

4. Met Gala 2019
Camp was the theme of last year's Met Gala and Porter did not disappoint. Inspired by Diana Ross and Ra, the Egyptian sun god, Porter was carried by six gorgeous men in Egyptian makeup and metallic gold pants. Porter's regal, embellished catsuit was designed by The Blonds and included stunning Giussepe Zanotti shoes paired with a 24-karat gold headpiece. It's safe to say that he stole the show with his performance of this song.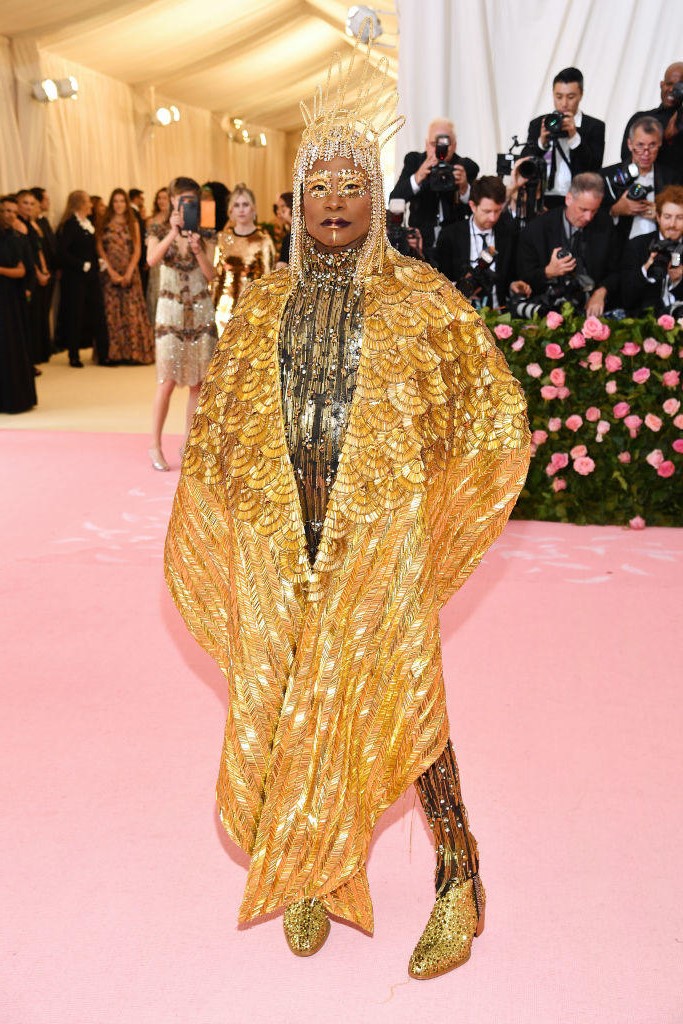 5. Premiere of the second season of Pose: Francis Libiran
This matador-inspired look, complete with a wide-brimmed hat, is rugged yet delicate at the same time, with silhouettes we can't help but obsess over. Always a master of the two-piece suit, this look consisted of a short black bolero jacket and black pants attached to a ruffled peplum that gave it a full, cascading finish. It took about three months to make the skirt, and let's be real: when it comes to skirt drama, Billy is a perfectionist!