The Ultimate Guide To  Lake Como
Italy's most glamorous lake, Lake Como, is an hour's drive from the fashion capital, Milan. Packed with pretty villages and breathtaking views of the Alps, Lake Como is the ultimate destination for adventurous travelers, nature lovers, and those looking for a luxurious romantic getaway.
Travel to Lake Como
Flights to Milan
The easiest way to get to Lake Como is to fly into Milan. Milan has three airports, so depending on which airport you fly to, the route differs.
Look for
Flights to Milan
of
752 US dollars
Found 15 hours ago
New York (John F. Kennedy)
Milan (Malpensa)
with Vueling
Departure: 07 Sep
Return: September 17
From Milan Malpensa airport: you can take the 20-minute train to Saronno and change to another train to reach Como Nord Lago. Find your ticket at Malpensa Express. The journey will cost €10.90.
From Milan Linate Airport: You can take the 15-minute bus to Milan Central Station, from where you can take the train to Como. Your ticket can be bought on the bus and will cost you €5.
From Bergamo Airport (Orio Al Serio): You can take the Airport Bus Express for 50 minutes to Milan Central Station, from where you can take the train to Como. The journey to the train station will cost €10.
The best destinations in Lake Como
As
Bellagio
Varenna
Tremezzo
Como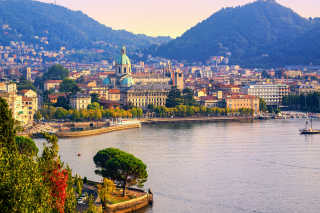 Situated on the border between Italy and Switzerland, Como is a stunning city with picturesque views and abundant natural beauty. For centuries, Como used to be the Italian capital of silk production, so it's a wonderful place for shopping! We recommend taking a nice long walk into the center of town, which is packed with boutiques and restaurants. There is also an open air market there, where you can find some nice vintage pieces and handicrafts. Standing in the middle of the main square is an impressive Romanesque church called the Basilica of San Fedele that is definitely worth a visit. The main attraction, however, is the Como Cathedral, which is as beautiful on the inside as it is on the outside.
Budget hotels in Como
Hotel Ristorante Glavjc
Hotel Palace
Bellagio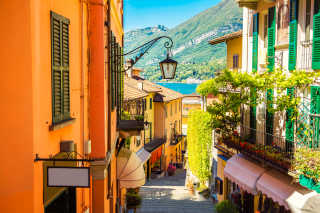 Famous for its fabulous villas overlooking the water, Bellagio is an enchanting paradise and one of the main attractions of Lake Como. Beautiful cobbled streets lead you through the town, where you will be surrounded by cute restaurants, cafes and shops. In the center of the city, you will find the fascinating Basilica of San Giacomo. One of the main attractions of Bellagio is, of course, the Gardens of Villa Melzi, a true botanical paradise!
Budget hotels in Bellagio
Charming Bellagio boutique hotel
Hotel du Lac
Varenna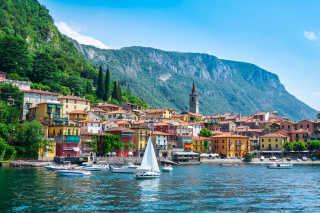 Varenna is a remarkable little town on Lake Como that is dotted with lush gardens and pretty pastel-colored houses. The city is home to two beautiful villas that are a must-see; Villa Cipressi and Villa Monastero. Both villas are equally impressive and you only have to pay a small fee of €4 to enter. If you fancy a little adventure, we recommend a hike to Vezio Castle for the most picturesque views of the lake.
Budget hotels in Varenna
Hotel Olivedo
rough house
Tremezzo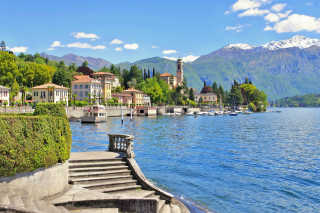 As one of the most popular holiday destinations on Lake Como, Tremezzina is a charming town that is home to the infamous villa: Villa Carlotta. Another famous villa found in this beautiful city is Villa Balbianello which is featured in many Hollywood movies like Casino Royale and Star Wars Episode II: Attack of the Clones.
Budget hotels in Tremezzo
Lario Hotel
Hotel Villa Eddy